When I was growing up, not only was I different because I went to a catholic school and had a single mother (heaven forbid!), but my mother studied what, at the time, was considered the "occult"... metaphysics, energy medicine, alternative healing, and more.
One time when I came home, there was a psychic in our living room giving readings. I quickly tried to exit the area and mentally block her from reading the contents of my teenage mind...
So alternative spiritual ideas and healing methods have always been somewhat "normal" in my life. As an adult, I've continued this journey, working in personal growth for many years — including almost two decades teaching with the pioneer of Creative Visualization, Shakti Gawain.
Yet recently, I've experienced some persistent health issues. I've tried plant-based diets, herbal remedies, exercise, meditation, affirmations, prayer, journaling, therapy, and more. Each of these practices has helped me feel better, but hasn't quite brought me the total "healing" I've been hoping for.
I had a chance to sit down with Suzanne Scurlock recently (coincidentally Shakti published Suzanne's bestselling Full Body Presence!) and she shared that although we might be avid yogis, eat organic-only foods, and balance Eastern and Western medicinal treatments, we can still be unconsciously undermining our own health.
Trauma (physical or emotional, big or small), anxiety, unconscious conditioning, and limiting beliefs fundamentally block us from connecting with what's going on internally — causing us to lose access to the information that the exquisite navigational system of the body is constantly offering us.
We might be in touch with one or two wisdom centers within our bodies, but it's likely we're not able to fully embody these areas and access the depths of guidance and knowledge our body has for us — including the exact information we need to HEAL ourselves.
The result is that we're locked out of the wise systems of the body AND unknowingly sabotaging our health — even when we're consciously working on ourselves in a number of ways.
In this 10-minute video, leading conscious awareness instructor and bestselling author Suzanne Scurlock shares insights into how you may be hijacking your own health — and shows you how you can release long-held blocks and traumas that may be stopping you from experiencing vibrant health and true happiness.
Don't miss these profound highlights Suzanne shares in this 10-minute video:
(2:53) — Discover your body's cellular intelligence and how to navigate it
(3:40) — The pelvis as one of the main wisdom areas of your body — and how to tap into it
(4:31) — The effect of trauma on your body — physical and emotional
(5:20) — Different types of trauma and how they're experienced
(6:32) — The lasting impact of psychological trauma on your body and how it manifests (including a powerful case study from Dawson Church!)
She'll also share with you how being attuned to your body's wisdom areas and knowing how to nurture their capacities can provide you with greater intuition, wisdom, personal power, and joy — plus help you to dissolve confusion, stress, pain, and overwhelm.
In my personal health journey, I feel that Suzanne's teachings have allowed me to access a deeper level of healing, and release trauma and shame that's prevented me from achieving my health goals. Through this video, I hope that you too can begin to find the freedom you're looking for!
---
Discover how to reconnect with the essential areas of deep wisdom in your body — to liberate more of your intuition and personal power — in Suzanne Scurlock's FREE class: Reclaiming Your Body's Innate Guidance System: How to Listen to Your Bones and 5 More Wisdom Areas to Heal Trauma & Increase Intuition
Sign Up Now to Reconnect with the Essential Areas of Deep Wisdom in Your Body & Access Greater Intuition, Personal Power, and Joy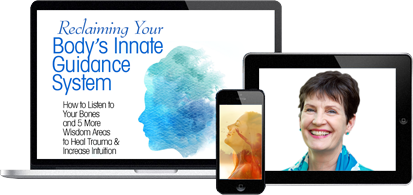 Your information is safe with us! We'll never share or sell it, and will use it to send you notifications about this program and other related information from The Shift Network. Each email we send contains an unsubscribe link for your convenience.
Reclaiming Your Body's Innate Guidance System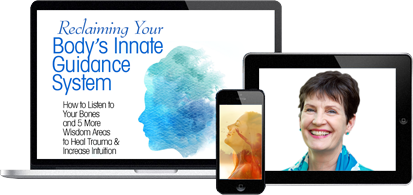 Click below to register for the FREE online event with The Shift Network
Learn More
Have you experienced trauma — physical, psychological or emotional? Have you experienced trouble reaching your health goals as a result? We'd love to hear from you!