Since ancient times, Indigenous traditions have worked with practices for connecting to a higher force field that pulsates throughout everything in nature.
These practices have often featured ancient visionary herbs — used ceremonially to enhance meditation, deep states, and dreaming...
You can use this kind of wisdom today to communicate and collaborate with plants to bring healing to yourself and those around you.

In the short video above, Adriana Ayales, curandera herbalist and medicine maker shares her plant-medicine selections for lucid dreams and transformative dream experiences...
As Adriana explains in the video, passionflower, chamomile, and skullcap are excellent herbs to start with on your lucid-dreaming journey.
You might also try mucuna, which contains high levels of L-Dopa, a naturally occurring amino acid that transforms into dopamine for your brain. It can strengthen your mind and pineal gland, helping you reach states of higher consciousness — which can lead to truly transformative dreams...
Don't miss these highlights:
(00:02) — Why your amount of lucid-dreaming experience matters, and which herbs are best for beginners
(00:35) — Which herbs you should use once you're more experienced and find yourself waking up in your dreams
(00:53) — The wild weed that's identical to the brain's neurotransmitters
(01:43) — The easy-to-find adaptogen that regulates the hypothalamus and decompresses the nervous system
Would you like to deepen your exploration into plant medicine — and discover how to reconnect with the natural properties of plants to help you become fully grounded, and achieve greater physical, mental, and spiritual wellbeing?
You're invited to attend Adriana's 1-hour mini-workshop, Indigenous Plant Medicine Rituals for Purification & Protection — at no cost. Sign up in the box below.
Register for this FREE online event with Adriana Ayales to purify your physical space, raise your vibration, dispel negativity, and reconnect to your spirit with an ancient cleansing ritual, guided visualization, and meditation practice.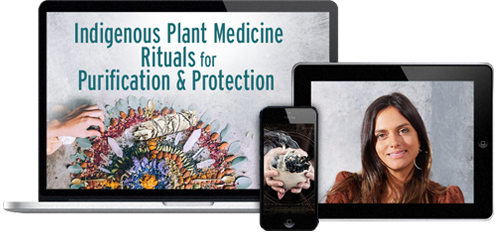 Your information is safe with us! We'll never share or sell it, and will use it to send you notifications about this program and other related information from The Shift Network. Each email we send contains an unsubscribe link for your convenience.
Discover Indigenous Plant Medicines for Purification & Protection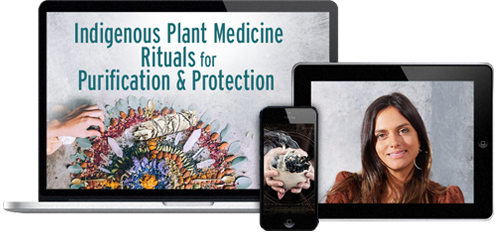 Click below to register for the FREE online event with The Shift Network
Learn More