Do you know what your Ayurvedic body type or dosha is?

It's helpful to know this when working with essential oils using the principles of Ayurvedic medicine because then you can choose the very best oils for your unique constitution.
In the clip below, you'll find recommendations from master herbalist David Crow on exactly that — what oils are great for your ayurvedic body type, and which oils are great for all body types.
Don't know your ayurvedic body type?

Take a glance at the infographic below. It contains a quick overview of the 3 doshas, so you can get an idea of what your particular body type could be.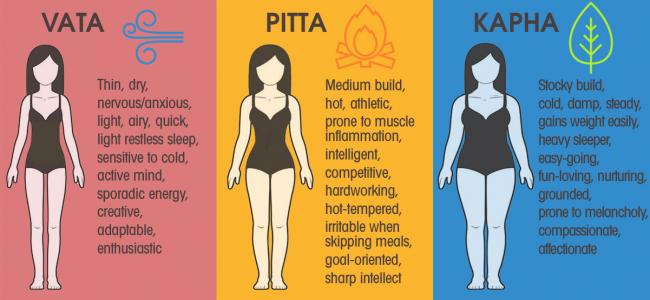 Body type is just one lens from which you might explore how essential oils could uniquely benefit you. David Crow explores many others through his teachings on Ayurvedic aromatherapy and plant medicine.

With expert guidance, it is comforting to know that as healing remedies, essential oils are some of the safest natural medicines we can use.
---
Sign Up Now

to Access the Power of Essential Oils for Optimal Health, Wellbeing and Personal Transformation.

Your information is safe with us! We'll never share or sell it, and will use it to send you notifications about this program and other related information from The Shift Network. Each email we send contains an unsubscribe link for your convenience.
What's your Ayruvedic body type? Have you tried aromatherapy as a tool to support your health and wellbeing? We'd love to hear from you!